I have been fortunate enough to accompany our Year 7 students to the Da Vinci Decathlon at Knox Grammar School, NSW.
Being surrounded by such intelligent students and teachers has left me in a state of awe and wonder. It has also given me the opportunity to connect with passionate staff who specialise in all subject areas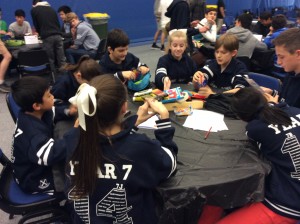 I have been observing a lot of the activities and assisted in marking some of the papers, but the highlight for me so far has been witnessing the enthusiasm of our students. They have already received two certificates, 1st place in Creative Producers and 2nd Place in English. They also won first place in the Symposia Challenge with their invention presentation about iSense. Very proud!
This afternoon students were privileged to listen to a guest speaker; Mr Mark Scott, AO Managing Director of the Australian Broadcasting Corporation. http://about.abc.net.au/profile/mr-mark-scott-ao/
Key Notes from Mark Scott's Presentation:
What kind of person leaves a legacy? How do you become the kind of person who leaves a legacy?
Key idea: It's all about how you use your time.
Things we know: You can't change what happened yesterday/ can't change the past.
The future is uncertain, you don't know what it may hold .
SO
It is about living for today. Today, what can we do today?
1. Learn how to like a problem. Learn how to thrive in the challenges you face. To be great you have to have talent, but you also need to concentrate on improving your skills. Being talented is not enough. Learn as you go, show dedication. If you are going to master something, focus on the one challenge at a time. Multi-tasking is useful but its not the best way to learn. The answers that you are seeking won't always come easily. Take your time to solve them and learn through the process. Stick with it, success doesn't come easily it takes time and many mistakes and disappointments. Our failures help us to eventually succeed.
2. People who leave legacies work in teams. The team can bring together different skills, knowledge, insights etc. Thinking together helps us to get further in problem solving. Get involved in discussions, be a part of the debate, question your opinions and thinking. Challenge each other.
3. Have Goals. People who have goals want to achieve things. Be mindful of where you are, live in the moment on your journey because it's not just about the final destination. Celebrate your successes along the way. Enjoy where you are today, the journey gives you just as much pleasure and success as the final destination or product. Focus on making the best in the present moments.
4. What legacy would you like to leave?
I would love to hear some of my student's responses to this question, what a great reflective task to set after this experience. I would personally like to reflect on this question too, but that's for another blog post, another time.
Tomorrow we have an exciting day ahead, a Race Around Sydney! Will blog about our next DaVinci Adventure soon.