Digital Citizenship in the PYP Workshop: Wednesday 20th- Friday 22nd of January 2015 (24 hours PD)
For the last 3 days I have been involved in a workshop called Digital Citizenship in the PYP.
My workshop facilitator was Nathan Pope (@Chinaheadk12), he was great at catering for a diverse group of learners and was very open to sharing resources and his presentation with us. I learnt some new things about Digital Citizenship and many discussions reaffirmed some of my prior knowledge and allowed me to share content with the group.
So what is Digital Citizenship?
This image is a brainstorm chart of my group's definition of Digital Citizenship.
It says: Being a digital citizen means having an awareness of how to be safe and responsible in the digital community. We also wanted to acknowledge a level of accountability for individuals.
A useful resource I have used with Year 6 students about Digital Citizenship: http://www.digitalcitizenship.nsw.edu.au/
My previous post (2 days ago) was a response to one of our workshop readings, which stimulated great discussion within our group about the use of technology in the classroom. This post is an overview of the course and the highlights for myself as a learner.
Some of my highlights included:
Some old and new Learning Engagement strategies, I particularly loved the Nearpod poll, (http://nearpod.com/) this allowed you to see results being generated from the class live. Nearpod is a tool for delivering content that I would like to trial with my students. You can set it to class mode and run through it as a group or set it to individual mode where students can work through content and tasks at their own pace. Something worth exploring for sure.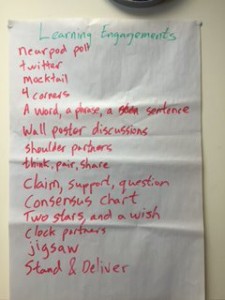 Web 1.0, 2.0 & 3.0 and learning what these were and the difference between each. I had never heard of this before but it was something I enjoyed learning about. Here is a brainstorm image from the workshop explaining this. In short Web 1.0 is readable content we can view but not edit, Web 2.0 is writeable content we can collaborate with others on and Web 3.o is executable, artificial intelligence, computers communicating with computers to share content relative to our interests. Pretty amazing stuff. Please also view the video link for a more detailed explanation below.
After learning about Web 2.0 we were asked to choose a piece of technology that we use to collaborate and identify the opportunities and threats about it. I chose Seesaw as I will be using Seesaw with my class again this year as part of our digital portfolios and starting blogs in junior primary. Here is what I came up with:
Google a Day Challenge: http://www.agoogleaday.com/ I'm interested in using this with middle to upper primary students to assist them with searching tips using Google. There are some skills that need to be specifically taught and refining searches is one of them.
Are we disconnecting by being digitally connected? I stumbled across this video whilst searching for something else but thought it was just too good not to share. It's about the issues we have today about being connected by technology but disconnecting socially in real life. I think everybody should take the next 20 minutes and just watch this Ted Talk by Sherry Turkle, especially those addicted to their phones!
 
We also explored Digital Footprints, Cyber Safety/ bullying, Grooming and Creative Commons and copyright issues (plagiarism). I have a bit of a background knowledge on these topics already but would like to add the videos I thought were quite good in relation to these topics.
Digital Footprint:
 
Creative Commons:
 
Cyber Safety resource for students. I've used this with Junior Primary up to Year 6's: http://www.cybersmart.gov.au/cyberquoll/
Digital Citizenship Rubric: We discussed the importance of intellectual property and plagiarism. We defined plagiarism:

Plagiarism is the use and copy of unacknowledged works. Works can include pieces of art, music, theatre performances, graphic designs, photography, film, published/ written works online, website content, programmes, graphs and digital representations. 

We then discussed ways in which we could educate students about plagiarism and how to check if their work was cited properly. This rubric can be used or adapted to suit your students, I think it's quite good. 

Finally Policy Documents: We had the opportunity to look at policy documents from other people's schools in the group. The big take away point was that staff, students and parents should be involved in creating the policy documents. Too often it is the responsibility of a senior/ leadership staff member to create policy documents and then they share it, ask people to read it and then it's done. Some people will take the time to read the policies but I dare say that more people will not find the time to engage with them… So, getting people involved in the policy drafting process and then handing the ideas over to leadership or senior staff to finalise is probably a better way to go about it.
Resources: Here is a link to the course website that Nathan Pope shared with each of us. It has many great articles, videos, resource links and examples of policy documents. I hope you find them as useful as I do: https://sites.google.com/site/jadedigitalcitizensite/home
Final thought, we are all Digital Citizens, it is our responsibility to be great role models for our students and share our knowledge and understanding about what it means to be a good citizen, on and offline.
Thanks for reading, please post a comment.
Jade