Professional Development
EAL Hub Meeting Hosted at Pembroke Junior School
30/10/19 1:00-3:30pm
Presented by Nikki Abdilla
Next year I have been given the role of the EALD Teacher at St Andrew's. I attended the EAL Hub Group Meeting at Pembroke Junior School today to gather some resources and learn about how the EALD program works within the Pembroke school context. Here are my notes from my professional development today.
Thanks Nikki for sharing your practice and hosting this hub meeting today. I look forward to attending the next hub meeting.
Initial Assessments for EAL Student:
Good resource: Oral Test: Book "You Choose" by Nick Sharrat.
Conversation about the images. Record conversation on iPad, receptive and expressive language assessment.
Written Test: Starting at Year 1 do oral and written assessment. Yr 2-7
Documentation: Areas of Success, Areas of Concern. Assessment sheet after conversation.
Use the Levelling Language and Literacy Levels Folder. PDF links below.
language-and-literacy-levels-eald-levels-7-10language-and-literacy-levels-eald-levels-1-6
language-and-literacy-levels-eald-levels-7-10
Intensive Grammar and Genre Writing Program.
Traditional Grammar vs Functional Grammar. Look into this and make a decision within our school.
2 EAL sessions per group, per week. Students removed from class during literacy or LOTE lessons.
Building Teacher Capacities, supporting within the classroom instead of student withdrawal. Classroom teachers have more opportunities to make a difference in the lives of the children they have in their classrooms, supporting these teachers, literacy underpins all learning areas, showing them by leading sessions within their classes, modelling how to support their EAL students.
ELC & Reception- Oral activities, Games, Sorts, Songs and Stories
Speech Pathologists are a great resource
Apps: Toca Boca- Pronouns, Sago Mini- Pronouns and Prepositions,
Australian Apps: Play School, ABC Kids, Reading Doctor Apps, Hearbuilder Listening and Following Directions, Smashing Grammar, Padlet, Borrow Box (free  just use a public library app to listen to audio books), EPIC (Free online audio books on app and website).Listening to audio books and hearing English at home makes a difference.
Online Resources: Twinkl Account, Teachers Pay Teachers, Padlet, Pinterest, abc website (Learn English)
Board Games: Pickles to Penguin, Sentence Scramblers, Articulate for Kids, Guess Who, Sorting Games.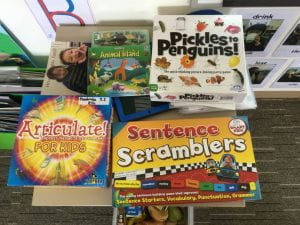 Practical Experiences: Cooking, making, acting, puppetry.
Big Books: Oral Language, PM
Making own books: Lisa Burman & Book Creator
Note: It is important to feature different ethnicities within your resources so students can identify with them.
Realia: Practical Play, using resources to play and have conversations.
Highly recommend Parent Information Session to inform parents about the support program.
How do we help students in the classrooms?
Word fans: use them in EAL lessons, add to them, send them back to class.
Padlet access in the classroom
Reception Program: Teacher packs with activities related to their lessons in class, vocabulary resources to stay in classes that TA's can use.
I have joined the EAL Adelaide Facebook group to continue sharing and learning with other EAL professionals.
Thanks for reading my blog.