The 1:1 iPad journey has been one of huge learning curves for my students and myself. We have constantly been working out how to resolve technical iPad issues, and one of the most common starting points and our class tagline is "Have you tried turning it off and on again?"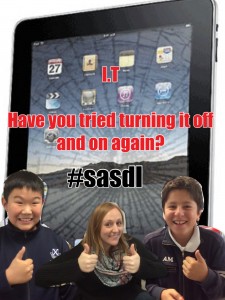 This week in Genius Hour (http://www.geniushour.com/) a couple of my students created this clever poster display for our classroom. They like to be referred to as my Tech Support Team but I am also flagging the idea of Digital Leaders within Upper Primary at our school.
One of my goals will be to begin working with Digital Leaders within my ICT Club (Co-curricular lessons) to establish a team of students who can assist their peers, teachers and other staff members with their technical difficulties. This may also extend into students running mini tech lessons in classes. This idea was born after following Nick Jackson @largerama (http://largerama.creativeblogs.net/) , who I saw at a CEGSA Conference in 2013 promoting the idea of Digital Leaders in schools. Nick also came to our school to meet with leadership to discuss options for our school.
These are some exciting ideas, which have created high levels of student engagement. I also believe that this kind of learning is purpose driven, allowing students to take responsibility for themselves and others, and importantly it gives students the opportunity to develop leadership qualities.
For more information about Genius Hour: