Capturing the Hearts of Reluctant Writers
Chantelle Morrison
I came to this session as I am the Language & Literature teacher in the MYP Year 6 Program at our school and wanted to explore different ways to motivate my writers. To begin this session we did a "Drop everything and write" activity. This is something I have done with my students before but I particularly enjoyed participating in this activity today. I need to be more involved in this process and actively be a writing role model for my students.
Here is the drafting version and final copy of my Drop Everything and Write piece: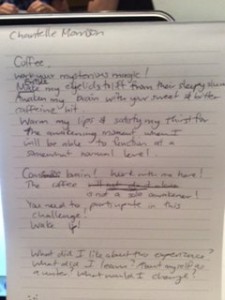 Coffee
Dear Coffee,
Work your mysterious magic.
Entice my eyelids to lift from their sleepy slump.
Awaken my brain with your bittersweet caffeine hit.
Warm my lips and satisfy my thirst for the awakening moment,
When I will be able to function at a somewhat 'normal' level.
Come on brain! Work with me here.
The coffee is not a sole awakener.
You need to participate in this challenge.
Wake Up!
Some notes I made during this session:
Questions to pose for students: What can I write about that would be valuable and relevant to someone else?
I enjoyed the writing Brainstorm activity.
What is writing?
What should writing look like?
What is one form of writing?
What is the purpose of writing?
What are the common writing blocks?
What is the first word that comes to mind when you hear the word writing?
Write one form of writing.
What is quality writing?
Everybody contributed to these brainstorms, they looked a bit like this:
I'm going to do this with my Year 6 students in Term 4.
Some thoughts:
I have always felt that writing requires motivation & purpose. Writing is a shared experience. Writing is shared even if it's simply for yourself. I loved that idea of journalling and sharing with my past and future self. Always share.
How do we assess, mark, grade the creative pieces? Vocabulary, perspectives, structures. This is always the most difficult part. Writing is creative expression in many instances. Nice to explore all types of genres of writing.
Why go public? Publishing. Authentic audiences. Writer's voice.
How can we make the writing we do more purposeful for our students? Blogging and creating an authentic audience for our students. Writing is a voice. Why is writing is important? I want my students to explore that question too.
Creation: The writing process
Writing Cycle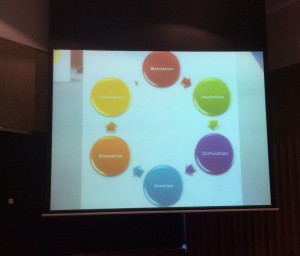 Resources to explore:
Cyber-dramas Google and use.
http://www.inanimatealice.com/
Videos: Up, a narrative without any words.
LendMeYourLiteracy: http://lendmeyourliteracy.com/
Switchzoo
Wild self
Inklewriter: Create your own adventure type of digital writing.
Storybird: https://storybird.com/
LookingGlass
Calemeo: Magazine making online.
Mahara: Digital portfolio, can be printed. FREE! Emaze/ Prezi
Poetry: Wordle/ Tagxedo, Voki, Vocaroo
I thoroughly enjoyed this session today. Refreshing, lots of ideas to explore in class and reaffirming in many ways. Thanks Chantelle.
Support or Questions to: @misscmorrison