Seesaw Activities
Professional Development at St Andrew's School
3:45-4:45pm, Wednesday 25 March 2020
3:45-4:45pm Tuesday 18 August & 25 August 2020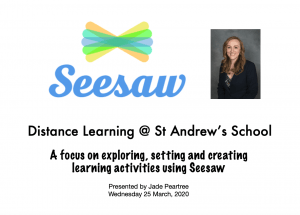 To assist St Andrew's Staff with current world events and dealing with the very likely possibility of remote or distance learning, I was asked to present information for teachers about how to explore, set and create learning activities that their students can access from home. I ran 3 Professional Development training sessions about the use of Seesaw Activities.
I became a Seesaw Ambassador in 2017, and have just updated my Seesaw Ambassador Training. I have been given great resources that I am sharing with you now.
Please note, our school setting has been using Seesaw for the last 4-5 years, this is a platform that is already familiar to our teachers, students and families, (the whole school community), which is why we have chosen to continue utilising this platform. We have mainly used Seesaw as a means to showcase student learning, like a digital portfolio.
Here is a link to my presentation about using Seesaw as a Digital Portfolio from my EdTechSA Conference in 2016: https://jadevidovich.edublogs.org/2016/07/20/edtechsa-conference-2016-seesaw-and-digital-portfolios/
I am aware that other online resources are being used to suit the needs of our teachers and students such as Edmodo, Showbie, Google Classrooms etc. Use what works for you.
Here is my PD Powerpoint presentation in a PDF format for my workshops. You can access all of the video links to assist you with exploring, assigning and creating your own Seesaw activities: Seesaw Activities PD 25:03:20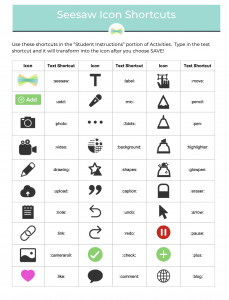 Frequently asked questions about using Seesaw and remote or distance learning attached here:
If you have any more questions about Seesaw Activities please write in the comment thread below or email me directly. My email is jpeartree@standrews.sa.edu.au
Thank you and all the best for your educational planning using Seesaw. You are all doing an amazing job dealing with the current state of events. Hold your heads up high, you can do this.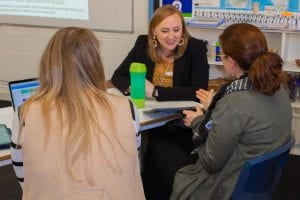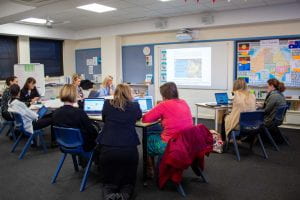 Jade